Increasing curb appeal tends to be on many homeowners' minds in the warmer seasons. When increasing your home's curb appeal don't stress, it does not need to be difficult or expensive! Whether you just bought a home, want to sell, or just want your front lawn to look better than in years past, these 5 landscaping ideas will help your home become the envy of the neighborhood.
Fertilize Your Grass
The first step to increasing your lawn's overall curb appeal is to start at the base, your lawn. You could have great landscaping features, but if your lawn looks dried out and patchy that will be the first thing people notice. Lush, green grass emphasizes your lawn's features and keeps your lawn healthy.
You could hire a professional in the Orlando area or do it yourself.
Add Potted Plants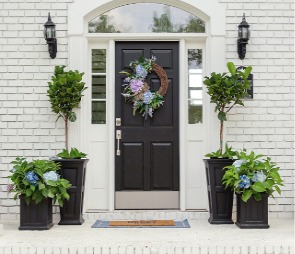 One quick and simple way to increase your curb appeal is to add two potted plants on each side of your door (four total). Follow this guide when choosing your pots, plants, and soil. You will be surprised what a difference this simple trick can make for the front of your home's look. For some extra flair dress up your door with a wreath or a welcome mat.
Add a Flower Bed
To make a big impact on your lawn's curb appeal, add a flower bed with borders. Make an impression on guests and passers-by, adding a flower bed along your home's exterior. You could also create a flowered pathway to the front door. Choose flowers that are low maintenance and grow well together. Even if you love to garden, a xeriscaping flower bed will be a selling point if you plan to sell your home someday.
Add Decorative Curbing
Enhance your bed's borders and keep them looking tidy by lining your flower beds and trees. Decorative curbing is not only beautiful and low maintenance, but it's also functional. This simple trick keeps your landscape looking neat and clean. It stops mulch from spilling into walkways and grass from creeping into your flower bed. By Adding decorative curbing your landscape will look well maintained while making it easier for you to maintain it.
Install or Improve Your Landscapes Irrigation System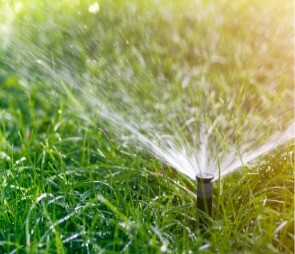 Your grass and landscape are significant factors in your home's curb appeal. A dry, yellow lawn will take the "wow" factor away from guests and potential buyers even if the rest of your landscape is attractive. Of course, you can hand water your lawn, but irrigation systems take the work out of manual watering. An irrigation system adds convenience, water conservation, and boosts your aesthetic. If you already have an irrigation system in place then consider consulting a professional for a revision or tune-up. A professional irrigation system revision can reevaluate the needs of your lawn. New sod or plants may have changed the needs of your lawn from when it was originally installed. A simple irrigation tune-up could increase the value of your home while also helping to create a thick and healthy lawn that makes your neighbors envious.
Signs Your Sprinkler System Needs a Repair or Tune-Up
Spring is the best time to get a tune-up for your sprinkler system. Call an irrigation professional to check your system before using it this season.
High Water Bill
If your water bill is suddenly high, something within your sprinkler system could be leaking. Shut off your sprinklers right away. Then call an irrigation professional to come out and check for leaks.
Uneven Watering
Dry patches in spots of your lawn but puddles of water in others may be a sign that a head or valve needs to be replaced. Overwatering can cause issues with your grass and soil quality as well. It is important to get this checked or one problem could lead to many.
Leaking Control Valves
Leaking control valves is a sign of trouble for your sprinkler system. The control value handles delivering the right amount of water to sections of your lawn. Check your system's equipment for any dirt particles, grass clippings, mold, or bubbles. Look out for damp areas around pressure regulators and filters as well.
Irregular Water Pressure
Loss in pressure or head sputtering is a sign of system malfunction. Too little pressure won't deliver the water your yard needs. Too much pressure will prematurely wear out your system's equipment. Cracked or clogged valves can cause pressure change. Irrigation pipes are susceptible to the shifting from tree roots. This can cause pressure changes as well.
Where Do I Start?
When trying to increase your home's curb appeal, choosing one of these 5 ideas is a good place to start! You could DIY your landscaping project or hire a professional. At Active Environmental, we fully service lawn maintenance and landscape design and installation to both residential and commercial properties. Contact us for your quote today!